M254/M256/M258 Low Power LCD Series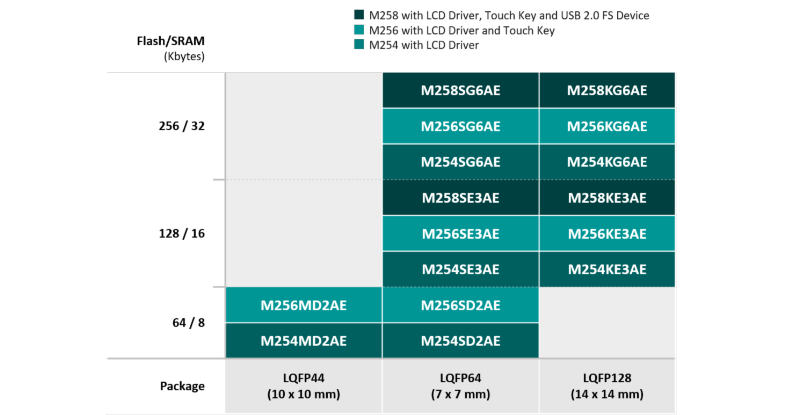 The NuMicro M254/M256/M258 series 32-bit low-power microcontroller is based on Arm Cortex-M23 core using Armv8-M architecture with COM/SEG LCD display driver and capacitive touch key functions; an USB 2.0 full speed device is also equipped to support the communication with PC/Mobile accessories. It runs up to 48 MHz and features up to 256 Kbytes Flash memory, up to 32 Kbytets SRAM, 1.75V ~ 5.5V wide operating voltage, 5V I/O tolerance, and -40℃ to +105℃ operating temperature.
The M254/M256/M258 series provides low power consumption in Normal Run mode 110 μA/MHz at 48 MHz, Power-down mode with 3.8 μA while RTC on and RAM retention, and it can supports down to 2.2uA while RTC off, and Deep Power-down mode is down to 1.6 μA. The M254/M256/M258 series integrates RTC with independent VBAT voltage source pin to support low power mode with main power off and VBAT only.
An 8 x 44, 6 x 46, 4 x 48 COM/SEG LCD is available on the M254/M256/M258 series. The COM/SEG LCD driver with selectable bias voltage and duty, and it also built-in charge-pump to support 3V to 5V wide voltage of LCD panel; Capacitive touch sensing function with up to 24 touch-keys with single-scan or programmable periodic key-scans is supported by M256/M258 series; The M258 series supports a crystal-less USB 2.0 full speed device, compling with USB Battery Charging Detection v1.2 (BC 1.2) profile for high-speed battery charging.
The M254/M256/M258 series is equipped with plenty of peripherals such as Timers, Watchdog Timers, RTC, up to 8 channels of PDMA, 4 sets of UART, 2 sets of Universal Serial Control Interface (USCI), 2 sets of SPI/ I²S, 2 sets of I²C, 1 set of ISO-7816-3, up to 12 channels of basic PWM, making it highly suitable for connecting comprehensive external modules. It also integrates high performance analog circuit, such as 16 channels of 12-bit 730 kSPS ADC, up to 2 sets of 12-bit 1 MSPS DAC, and a temperature sensor to reduce external components.
Supported packages include LQFP44, LQFP64 and LQFP128, those are pin-compatible to M251/M252, M031 and M480 series to make the system design and parts change on functional enhancement easily.
Target Application:
Handheld Devices
Thermostat with Smart LCD Display and Touch Key input
Smart Home Appliance
Industrial Control / Industrial Automation
Temperature/Humidity Logger
Key Features:
•
Operating Characteristics
-
Voltage range: 1.75V ~ 5.5V
-
Temperature range: - 40 ℃ ~ 105 ℃
-
EFT 4.4 KV
-
ESD HBM 7 KV
•
Core
-
Arm Cortex-M23 core using Armv8-M architecture, running up to 48 MHz, without TrustZone
-
32-bit hardware multiplier/divider
•
Memories
-
Up to 256 KB Flash
-
32 KB SRAM
-
4 KB LDROM
-
1-region eXecute-Only-Memory (XOM)
-
ISP/ICP/IAP programming
•
Clocks
-
4 ~ 32 MHz external high speed crystal oscillator (HXT) for precise timing operation
-
32.768 kHz external low speed crystal oscillator (LXT) for RTC function and low-power system operation
-
48 MHz internal high speed RC oscillator (HIRC) for system operation (Factory pre-trimmed to ±0.25% and frequency deviation ±2.5% over entire temperature from -40°C ~ 105 °C)
-
4.032 MHz internal high speed RC oscillator (MIRC) for system operation
-
38.4 kHz internal low speed RC oscillator (LIRC) for Watchdog Timer and wake-up operation
•
COM/SEG LCD Driver
-
8 x44, 6 x 46 & 4 x 48 COM/SEG LCD Driver
-
Built-in charge-pump feature
-
Supports 3V to 5V LCD panel
-
Supports 1/2, 1/3 and 1/4 bias voltage
-
Supports 1/4 duty, 1/6 duty and 1/8 duty
•
Capacitive Touch Sensing
-
Up to 24+2 touch keys with single-scan or programmable periodic key-scans features
•
Power management
-
Integrated with Power-on Reset, Brown-out Reset and Low Voltage Reset
-
Built-in LDO Integrated with Power-on Reset, Brown-out Reset and Low Voltage Reset
-
Built-in LDO
-
Support RTC with independent VBAT voltage source pin
•
Low Power Consumption
-
110 μA/MHz in operating mode
-
3.8 μA in Power-down mode (RTC on, RAM retention)
-
2.2 μA in Power-down mode (RTC off, RAM retention)
-
1.6 μA in Deep Power-down mode
•
Timers
-
Up to four 32-bit timers
-
One 24-bit SysTick timer
-
One independent watchdog
-
One window watchdog
-
RTC with Calendar and Alarm
•
PWM
-
Up to 12-channel PWM
-
Supports trigger ADC
-
Supports independent mode for PWM output/Capture input channel
-
Supports complementary mode for 3 complementary paired PWM output channels
•
PDMA
-
Up to 8 channels
•
Analog
-
Up to 16 channels of 12-bit 730 kSPS ADC
-
Up to 2 sets of rail-to-rail analog comparators (ACMP)
-
Up to 2 sets of 12-bit 1MSPS DAC
•
Communication interfaces
-
Up to 4 sets of UART interfaces
-
Up to 2 sets of I²C interfaces
-
Up to 2 sets of SPI/I²S interfaces
-
Up to 1 set of Smart Card Interface (ISO-7816-3)
-
Up to 2 sets of USCI (configured as UART, SPI or I²C)
-
words
•
USB
-
Up to 1 set of USB 2.0 full speed device with on-chip PHY (crystal-less design)
-
Supports USB Battery Charging Detection v1.2 (BC 1.2) profile
•
Development Platform Support
-
Arm Keil MDK and IAR EWARM IDE support for debugging
-
Free GNU compiler with Eclipse IDE support
-
ICP (In Circuit Programmer) support for updating internal code via Nu-Link debugger
-
ISP (In System Programmer) support for updating internal code through UART, SPI, I2C, RS-485 peripheral interface
-
PinView for real time monitor the status of all IO pins
-
PinConfigure tool for pin assignment, initial code generation and OrCAD/Protel part generation
-
ClockConfigure tool for generating the initial source code of system clock
•
96-bit Unique ID ( UID )
•
128-bit Unique Customer ID ( UCID )
•
Packages
-
LQFP44 (10 mm x 10 mm), LQFP64 (7 mm x 7 mm), LQFP128 (14 mm x 14 mm)