From the basic end nodes to the gateways and the clouds, IoT applications require control, networking, encryption and other related technologies. Nuvoton introduces the NuMaker-IoT-M487 development board for IoT applications. Embedded with the NuMicro M487 series microcontroller, NuMaker-IoT-M487 development board has built-in RJ45 Ethernet and Wi-Fi modules, which allows users to connect to cloud in a wired or wireless manner. NB-IoT, 6LoWPAN and other connectivity capabilities are provided through different wireless daughter boards to meet various application scenarios. NuMicro M487 series built-in encryption and decryption accelerator, the efficiency of encrypted network connection improves.
The NuMaker-IoT-M487 development board integrates common components and supports Arm® Mbed™ OS, built-in multi-axis sensor. It also provides compatible Arduino UNO and mikroBUS™ interfaces, which means GPIO, UART, ADC, PWM, SPI, I²C, etc. can be connected. The built-in Nuvoton NuMaker Brick I²C interface is also available. A unique simulated image sensor interface can connect to the CMOS image sensor to capture image for analysis. Combined with the NAU88L25 audio codec, the development board provides high-quality recording and playback. The external SPI Flash and microSD card socket provide additional data storage.
NuMaker-IoT-M487 provides multiple networking, interfaces, image sensing, audio recording, playback functions, and flexible extended data storage. Whether you need a sensor node or a light-weight gateway, the NuMaker-IoT-M487 is an ideal choice for IoT applications.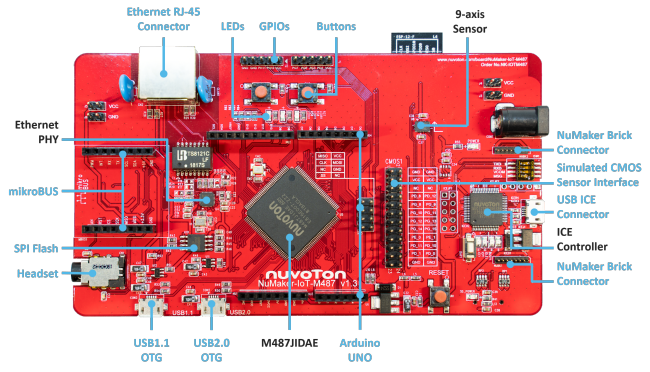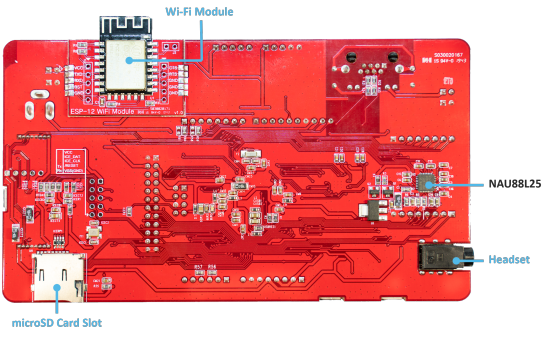 Platform

NuMaker IoT- M487

Features

32-bit Arm Cortex-M4 M487JIDAE MCU

Operation frequency is up to 192 MHz
512 KB embedded Flash and 160 KB SRAM
Dual Bank Flash
32 KB cache memory for external SPI flash
USB 2.0 HS PHY and FS PHY
RMII interface, support 10/100 Mbps Ethernet
DES, AES, ECC, 3DES, HMAC and SHA crypto accelerator
VAI (Voltage Adjustable Interface) system supports voltage level adjustment for individual I/O

On Board Devices

Audio Codec (NAU88L25) supports MIC and earphone
9-axis sensor
SPI Flash

Interfaces

Arduino UNO
mikroBUS
NuMaker-Brick I2C
RJ45 Ethernet
USB 1.1/2.0 OTG
microSD slot
3.5mm Audio connector

Resources

Arm Mbed™ OS developer site




NuMaker-IoT-M487 User Manual

Nuvoton Official Forum
Nuvoton eStore

TechDesign eMarket (Partner Channel)
*Ordering Number: NK-IOTM487