Half-bridge Induction Cooker
The electromagnetic induction heating technology used to converts 50 Hz AC low frequency to 17 ~ 35 KHz middle or high-frequency current, and then passes through the induction coil to form high-frequency magnetic fields that work with dedicated iron pots to generate powerful Eddy Current magnetic fields; metal atoms have fierce collision so can generates high temperatures promptly, which can achieve quick heating function.
The induction cooker solutions include monotube solution, half-bridge solution, and full-bridge solution. The monotube solution is suitable for 2 kW or less (mostly applied on home-use induction cookers). If needs fry function for high watt application, the power must reach 3 kW-15 kW, and if functions such as linear power regulation, maintaining boiling point and thermal insulation are required, then you will need a half-bridge solution; and the full-bridge solution is needed when heating power over 15 kW.
Nuvoton half-bridge induction cooker solution uses industrial-grade operating temperature: -40°C ~105°C MCU as the main controller, with embedded hardware safety protection mechanisms to achieve high performance and safety features; its maximum power can reach up to 15 kW and supports linear power adjustment as well as low power continuous heating (to maintain boiling point and thermal insulation, etc.) function. Multi-head stove solution is also provided to achieve centralized control and to coordinate the distribution power individually.
Single head stove/dual-head stove
Introduction:

Arm® Cortex®-M0, up to 48MHz, quick detection, real-time power adjustment, and safety protection.
12-bit 6-channel ADC, 2 comparators
Multi-channel precision detection: Power grid voltage, current, IGBT temperature, reel temperature, the temperature under the pot and zero-crossing detection, etc.
48 MHz 16-bit 6-channel PWM (complementary dead zone)
Effectively controls the IGBT switch, increases efficiency and prolongs the usage life
The adjustable dead zone, compatible with various IGBT

Safety protection mechanisms:
Output protection including over-temperature, over-voltage, over-current, and surges, etc. (External signal can turn the PWM ON or OFF and set output status, achieving quick protection)

Multi-head stove (5 maximum)
Introduction:

Arm® Cortex ® -M4, up to 72 MHz, quick detection of the over-temperature/over-voltage/over-current of each stove, real-time adjustment and distribution of power and safety protection
12-bit 16-channel ADC, 2 comparators
Multi-channel precision detection: Power grid voltage, current, IGBT temperature of each stove, reel temperature, the temperature under the pot and zero-crossing detection, etc
144 MHz, 16-bit 12-channel PWM (complementary dead zone)
Effectively controls the IGBT switch, increase efficiency and prolongs the usage life
The adjustable dead zone, compatible with various IGBT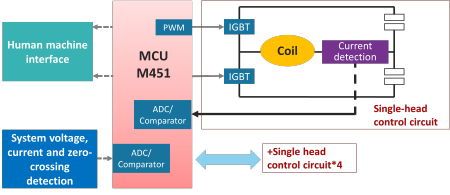 Safety protection mechanisms:

Output protection including over-temperature, over-voltage, over-current, and surges, etc. (External signal can turn the PWM ON or OFF and set output status, achieving quick protection)
Centralized control and coordinate the distribution of overall power
Solution features:
Supports linear power output and low power continuous heating, maintain boiling point and thermal insulation functions: Half-bridge circuit flexibly adjusts the charge and discharge time of the upper and lower arm IGBT
Multiple safety protections: Food tossing, over-temperature, over-voltage, and over-current, etc. Signal hardware including the 12-bit 6-channel ADC and 2 comparators turns the PWM ON or OFF directly
Increases efficiency and prolongs usage life: 16-bit PWM (complementary dead zone) can control the IGBT switch effectively
Related IC: