The NuMaker-HMI-M467 is an evaluation board for Nuvoton NuMicro M467SJ, M467KJ, M467JJ, M467HJ microcontrollers. The NuMaker-HMI-M467 consists of two parts: an NuMaker-M467HJ base board and an NuMaker-TFT-LCD43 daughter board. The NuMaker-HMI-M467 integrates touchscreen display, voice input/output, rich serial port service and I/O interface, providing multiple external storage methods. The NuMaker-HMI-M467 is designed for project evaluation, prototype development and validation with HMI (Human Machine Interface) function.
The NuMaker-M467HJ base board consists of two parts: an M467HJ target board and an on-board Nu-Link2-Me debugger and programmer. The M467HJ target board is based on NuMicro M467HJHAN. For the development flexibility, the M467HJ target board provides the extension connectors, the Arduino UNO compatible headers, and the capability of adopting multiple power supplies. Furthermore, the Nuvoton-designed ammeter connector can measure the power consumption instantly. The Nu-Link2-Me supports on-chip debugging, online and offline ICP programming via SWD interface. It also supports virtual COM (VCOM) port for printing debug messages on PC. Besides, the programming status could be shown on the built-in LEDs. Lastly, the Nu-Link2-Me could be detached from the evaluation board and become a stand-alone mass production programmer.
The NuMaker-TFT-LCD43 daughter board extends the NuMaker evaluation boards. The NuMaker-TFT-LCD43 requires NuMaker-M467HJ as the mother board to create a HMI development platform. It is equipped withs a 4.3" 480 x 272 RGB TFT-LCD and capacitive touch panel.
The NuMaker-HMI-M467 supports multiple graphics libraries, such as RT-Thread LVGL and emWin. It helps users build up dynamic GUI effects easily and provides another option in GUI development. Please refer to NuMaker-HMI-M467 User Manual for more information about graphics libraries.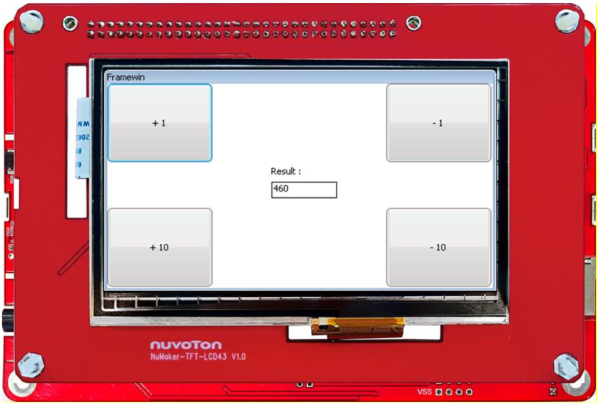 NuMaker-HMI-M467HJ Features
•
NuMicro M467HJHAN used as main microcontroller with function compatible with:
-
M467SJHAN
-
M467KJHAN
-
M467JJHAN
-
M467HJHAN
•
M467HJHAN full pins extension connectors
•
Arduino UNO compatible extension connectors
•
Ammeter connector for measuring the microcontroller's power consumption
•
Flexible board power supply:
-
External VDD power connector
-
Arduino UNO compatible extension connector Vin
-
USB FS connector on M467HJHAN target board
-
USB HS connector on M467HJHAN target board
-
ICE USB connector on Nu-Link2-Me
•
On-board components:
-
32 MB SPI Flash
-
64 MB HyperRAM
-
Thermal sensor (Nuvoton NCT7717U)
-
User LEDs and user buttons
-
10/100M ethernet PHY
-
FS-USB OTG and HS-USB OTG
-
Audio Codec
-
Micro SD Card slot
-
CAN FD transceiver
•
On-board Nu-Link2-Me debugger and programmer
-
Debug through SWD interface
-
Online/offline programming
-
Virtual COM port function
•
4.3" TFT-LCD
-
Resolution of 480 x 272
-
8 bit / 16 bit interface supporting 65K (RGB565)
-
Capacitive touch panel
Nuvoton Official Forum

*Ordering Number: NK-HMIM467