In recent years, with the gradual rise of the smart home consciousness, a considerable number of smart appliances emerge, which eventually need to be controlled by a host socket, The current common wireless devices include Wi-Fi, Bluetooth, and Zigbee.
Therefore, the reference design uses common Wi-Fi at home to achieve wireless control through mobile APPs for switch control and timing and scheduling. In addition, advanced APP with UI management for each plug can define each device.
Nuvoton Nano112 with excellent power consumption (Normal mode: 150uA/MHz; Power-down mode: 0.65uA) is applicable to many smart home devices. The Nano112 is also provided with an LCD driver for displaying plug related information (device power consumption and variable voltage values) and works with a mobile APP to achieve remote control and scheduling management through a Wi-Fi module.
A common Wi-Fi module can be achieved through a UART or SPI interface. Also, the use of PWM capture function to measure received infrared and relevant indicators display can be achieved through Nano112 with ultra-low standby power consumption and lots of peripheral as well as LCD driving capability.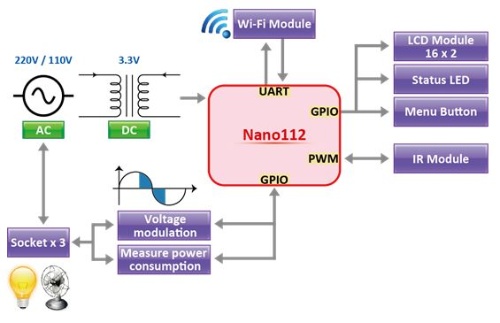 Features
Ultra-low power consumption (Normal mode: 150 uA / MHz; Power-down mode: 0.65 uA)

Supports LCD driver (4x36, 6x34)

Wi-Fi remote control and Infrared remote control

Power consumption display for each plug

Voltage adjustment for each plug

Supports timing and scheduling management APP

Supports plug UI management
Related IC
Current Sensor

IR Sensor

Wi-Fi module