NUC970 Industrial Control Series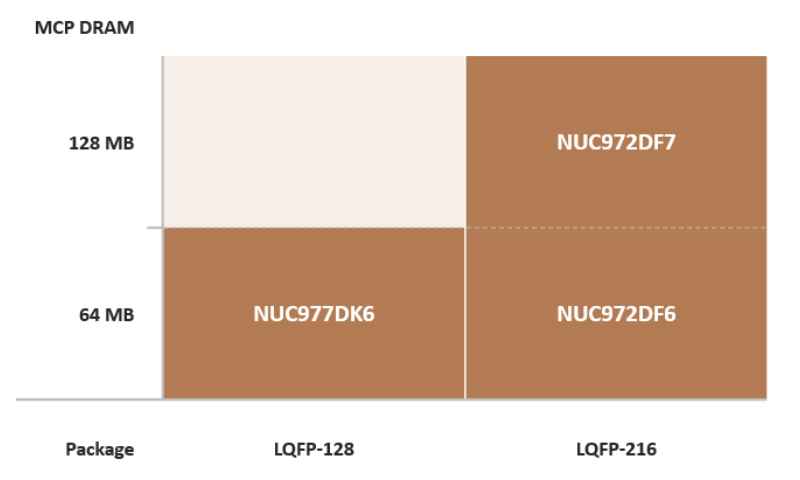 The NUC970 series with the ARM926EJ-S core can operate at up to 300 MHz . It offers 128-pin and 216-pin LQFP packages stacked with 16 MB, 64 MB or 128 MB DDR-II Memory to reduce PCB size and EMI issues. Rich peripherals include 11 sets of UART , 2 sets Ethernet, SDIO/eMMC interface, NAND Flash interface, LCD controller, CAN 2.0B, ISO-7816 interface and High-Speed USB 2.0 host /device controller to allow more flexibility in designs. The NUC970 also integrates the crypto engine which provides hardware acceleration for AES, triple DES and SHA function. It supports industrial temperature from - 40 ℃ to 85 ℃ and targets Industrial Control, HMI, IoT Gateway and Smart Home Gateway / Router applications.
Target Application:
HMI, industrial automation, industrial control, robotics, EV charging station, smart home, PLCs ( Programmable Logic Controller ) , RTUs, renewable energy gateways.
Key Features:
•
Core
-
ARM926EJ-S core
-
Operates at up to 300 MHz
-
16 KB I-cache / 16 KB D-cache
•
DDR Memory
-
Built-in 16 / 64 / 128 MB DDR II Memory
•
EBI
-
Connects SRAM and EBI -compatible devices
•
USB 2.0 High Speed Host / Device
-
Up to two USB ports: one USB Host and one USB Host / Device
•
System Boot
-
Boot from SPI Flash, NAND Flash, eMMC Flash or USB Device
•
Crypto
-
DES / 3DES, AES, SHA / HMAC / PRNG
•
Dual 10/100M Ethernet with RMII
•
LCD Controller
-
Supports RGB565/ RGB666/ RGB888 interface
-
Max. resolution: 1024 x 768
-
2D Graphic Engine
•
Video Input Interface
-
Supports CCIR656 / CCIR601 interface
-
Max resolution up to 3M pixels
•
Dual SD Host Controller
-
Supports SD / SDIO / eMMC
•
ADC
-
Supports 12-bit 8 channels
-
800 kSPS
-
Supports four or five wire touchscreen function
•
Peripheral
-
Supports SPI / I²C / PWM / CAN / ISO-7816